Blog
Oct 9, 2010 - Get Into It
Written by Dangerrr
Wednesday, 29 September 2010 05:23
Hand picked a fresh crop of pinups for this event... Waiting on Creature's final approval...
SEE YOU IN RAMONA.
SF & LA - Sailor Jerry documentary is back!!! June 9-15
Written by Dangerrr
Sunday, 06 June 2010 01:05
If you missed our awesome parties last year for the screenings of Hori Smoku Sailor Jerry - aka Life & Times of Norman K Collins, US Navy vet and American Tattoo master - you're in luck! Last year was an amazing success and the SF screening topped all expectations when we hit capacity and there was still a line down the block for the after party!
Select screenings of this amazing documentary are showing this month in the SF and LA markets - RSVP for free entry to the film! Get on it!!!
San Francisco - June 9 & 10 @ The Roxie (16th @ Albion by Delerium bar)
RSVP: http://horismokumovie.com/sanfran_screening/
Los Angeles - June 14 & 15 @ Laemmle (W Sunset)
RSVP: http://horismokumovie.com/la_screening/
Admission is free but you MUST RSVP!!!!
21+ In Some Markets
In Company/Affiliation be sure to either include your bar, tattoo shop, or "Dangerrr Doll" so we can sort our guest list
XOXO Michelle / She's Cracked / Dangerrr
Be there !!!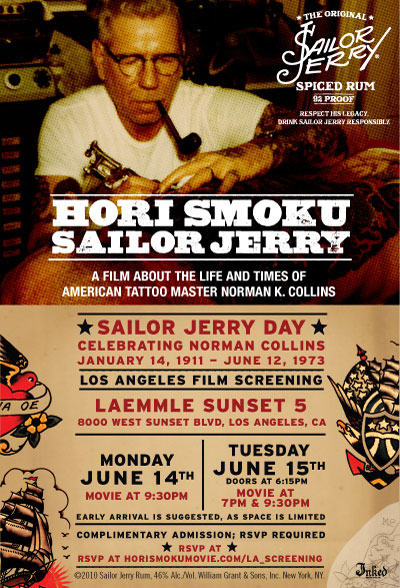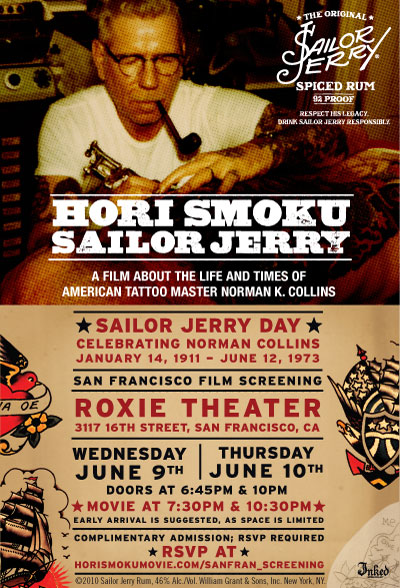 Written by Dangerrr
Thursday, 14 January 2010 06:34
Last Friday, while planning out a shoot w/ the photog, I made the off handed comment "I want to be INKED Girl of The Day!" - shoot on Saturday/Sunday was pretty fun. Fast Forward to this morning, some friends texted me while I was driving to work and sent messages on FaceBook to check the front page of Inked... and, well... Awesome!
Party Photos: Sailor Jerry Time!
Written by Dangerrr
Monday, 12 October 2009 13:11
I hosted a documentary screening (Hori Smoku Sailor Jerry) Sept 15, 2009 (if you can remember back that far) over at Roxie in the Mission. We had a little after party, too... overall it went quite well and a LOT of awesome ppl came through (over 700 RSVPs, the film was over capacity and the after party was off the CHAIN).
So basically I hooked up my Brother from Another Mother as our photographer for the event. Here we are with party pooper 4.0 shot. (all official photos from this event are by AF3, except this first one of us by Allen M):

DannyBoy - one of my sick ass tattooers - came through from Mom's. Check him out at his new chair - Let it Bleed Tattoo on Polk St (near Hemlock):
Me & D's "Mexican Soap Opera" photo:

Uptown Erin:

My new SFWeekly BFF Kevin:

More pictures of me not being drunk (thank you to all tha Cabs & DD's that took care of everyone this night, always make good choices):

Oh and this is Saturday night (10/10) - Worked Make Out Room again and then headed to Delerium w/ JessicaG & Spazzy Chris... Somedude: "Is that proper bar etiquette, painting your nails?" - Me: "I don't know... Everyone in here is too drunk to smell it. Who cares. I didn't have time at the other bar."
Pleasurously Pleased to Present SUGARPILL!
Written by Dangerrr
Wednesday, 29 July 2009 04:56
My dear Shrinkle has just put up a sneak peak PR image for her new cosmetics line, Sugarpill. Shrinkle we are all so proud of you, I know you've been working on this for years it is amazing to see our friends and family's hard work make their dreams come true. Check out Shrinkle.com to keep up with her apparel line and for the launch info for Sugarpill. Props on the photo, Marburg!
Written by Dangerrr
Tuesday, 30 September 2008 20:08
can we please stop losing our light?
RIP
Johnny Romano
Van Wastell
Aaron Fuller
Switchblade Riot / Billetproof 2008
Written by Dangerrr
Sunday, 21 September 2008 06:34
Sooo long time no update. Life is good. Moved out of Oakland and into SF. Looking to move a little more toward the Peninsula to be closer to my new job, but other than that, I'm chillin... here's a recap of the last 48 hours:
+++++++ IT'S A LONG ONE - CLICK FOR PHOTOS... WOOO! +++++++
Written by Dangerrr
Friday, 11 April 2008 18:24
Well hello! Long time no talk. I cannot believe it is half-way through April... Or as we say around here during my invoice processing, QUARTER 2! Ha. Oh man. Let's see what we can get through... on this too-nice-to-be-inside-working Friday morning. (And no, knuckle tattoos are not real, silly!)
Last night I accompanied Quinne Suicide to the SG party and lingerie fashion show at Temple in SF. We had a pretty good time minus the douchey guys (let's just say it was an active game of Your Team). Met a couple really interesting gals and this tiny little sprite that looked like a redhead Kylie Minogue. Hot! I have to say the sound at Temple is phenomenal. It also is really interesting inside, a little cold (design wise) for me but the lighting is pretty awesome. My feet are feeling the wrath of 6" heels and my ribs are still feeling corsetted... but... *breathe* ahhh....
Quinne and I also established Awesometown, USA last month. This entire thing has been such a journey already, and we've only just started. We've hinted around at this "awesome" hanging on the horizon, but let me start at the beginning.
We have known each other for a year or so, but recently bonded while going through really difficult times in our respective lives. We decided to embark on a photography project with the ultimate goal being to put out a coffee table book of these photos by Early Fall. The theme of the book started out as a mock tourist guide for the Northern California region, but as our ideas grew, and unexpected amazing themes manifested into unexpected amazing photos we have broadened the scope a little bit. We not only have been keeping our skills and creative eyes open, but this project has turned into such a cathartic and expressive journey not only through California but through our minds and our selves. Sounds hokey, but who cares!
This is a journey of our hearts and souls, and we are photographing every minute of it and piecing together a story that may not be for everyone, but the ones who do connect with it, I think will enjoy it quite a bit... And what is this masterpiece going to be called now? Here it is: "Awesometown, USA: A Lover's Guide to Life." We'll keep you updated with out takes and eventual release information.
And thus from the book and all the hanging out and hashing out our shit, our sarcastic mutters of "man, this is awesome..." became genuine cackles of "holy shit, this IS awesome!" as we undergo the process of shedding our skins and building thicker ones, cleaning the wounds, applying new bandages, taking the bandages off and incorporating the scars into our collective experience but not getting hung up on them. This isn't girl power shit, new wave spirituality peace love unity shit. But I guess this is growing up. It still hurts a little, so it must be working.
And then, again spawned from this book, and expanded by the trips and experiences, we created our fake little town (Awesometown, y'heard!) to amuse ourselves... only to find so many people were into what we were doing and wanted to be a part of it. So I made a site, wrote up a town charter, and Quinne and I became co-mayors of the most awesome town there is.
Whatever you're into... just endeavor to do something. Live your life.
Happy Friday! Some updates...
Friday, 07 March 2008 17:27
Ok, after messing with some php, server and other alien settings, I've finally gotten Joomla's extension installer to actually install stuff. Crazy, right? I know! It's so weird that now I can actually add stuff on now like a normal non-inept person. I'm hoping to find some cool features that make my site more usable and interactive. There are tons of extensions out there of course but I'm still thinking about what would be the most awesome, of course! I am thinking of opening up user registration and adding on a forum... Maybe, one day! Soon enough... Here are my 2 basic yet very important and stupidly-delayed additions:
1) Guestbook! Duh! Please click here to sign the GB and drop me a note!
2) Comments! Now you can comment on my blog posts and galleries! For the time being posts are moderated, to avoid spam! But throughout the day I will be going through and approving comments. Eventually, when I do open up the registered user feature, I won't have to moderate the comments because all of you, my awesome visitors and supporters, can be registered as REAL PEOPLE, not out there wading in the pool of spammers! Unless you're both a real person AND a spammer... lame!
Quinne and I have been having an AMAZING time working on these new photo concepts. Trust me, it'll be different and awesome and funny and awkward and overall, pretty epic. Hope everyone has a great Friday!
XOXO,
Dangerrr
Amazing things to come...
Friday, 22 February 2008 17:27
Well well it looks like 2008 is about to get awesome. I've met my match photo/art wise in my lovely friend Quinne and we are about to embark on an amazing project that I can only hint at now because we are literally doing everything the minute our minds stop spinning just long enough to grab the cameras and get going... I am really excited that this is going to be something creative and inspiring, and is going to push us to come up with some great stuff. It is also going to be a bit of a departure from the "cheesecake" stuff, but that is all the more reason I am totally intrigued/thrilled to step out of the "safe" pin-up box and have fun with this...
Hope 2008 is going VERY well for everyone thus far. Don't forget to file your taxes! Haha. Also, Tequila? Over it (again). I'm probably just meant to be a Whiskey girl por vida.
XOXO,
Dangerrr!
Sunday, 27 January 2008 19:16
photobooth pics @ thee parkside after seeing Angry Samoans at bottom of the hill 
<<

Start

<

Prev

1

2 Next > End >>


Page 1 of 2