Welcome to DangerrrDoll.Com!
Oct 9, 2010 - Get Into It
Written by Dangerrr
Wednesday, 29 September 2010 05:23
Hand picked a fresh crop of pinups for this event... Waiting on Creature's final approval...
SEE YOU IN RAMONA.
Written by Dangerrr
Tuesday, 07 September 2010 04:51
Shot some quick new portraits on loc in PICO RIVERA 9/2010 w/ Marco! Ring flash is my new BFF! more under the JUMP >>>
Read more...
Summer eBay Sale! Cute wardrobe & Pin Up items
Written by Dangerrr
Sunday, 22 August 2010 03:18
Written by Dangerrr
Thursday, 01 July 2010 06:45
Here's some samples from the shoot with Marco last weekend in Southern California... check it out!
MUAH: Me, Cosmetics by Sugarpill- check them out for the boldest, brightest eye pigments and innovative loose non-metal glitters for dramatic looks without the eye or contact lens irritation and danger from metal
Read more...
SF & LA - Sailor Jerry documentary is back!!! June 9-15
Written by Dangerrr
Sunday, 06 June 2010 01:05
If you missed our awesome parties last year for the screenings of Hori Smoku Sailor Jerry - aka Life & Times of Norman K Collins, US Navy vet and American Tattoo master - you're in luck! Last year was an amazing success and the SF screening topped all expectations when we hit capacity and there was still a line down the block for the after party!
Select screenings of this amazing documentary are showing this month in the SF and LA markets - RSVP for free entry to the film! Get on it!!!
San Francisco - June 9 & 10 @ The Roxie (16th @ Albion by Delerium bar)
RSVP: http://horismokumovie.com/sanfran_screening/
Los Angeles - June 14 & 15 @ Laemmle (W Sunset)
RSVP: http://horismokumovie.com/la_screening/
Admission is free but you MUST RSVP!!!!
21+ In Some Markets
In Company/Affiliation be sure to either include your bar, tattoo shop, or "Dangerrr Doll" so we can sort our guest list
XOXO Michelle / She's Cracked / Dangerrr
Be there !!!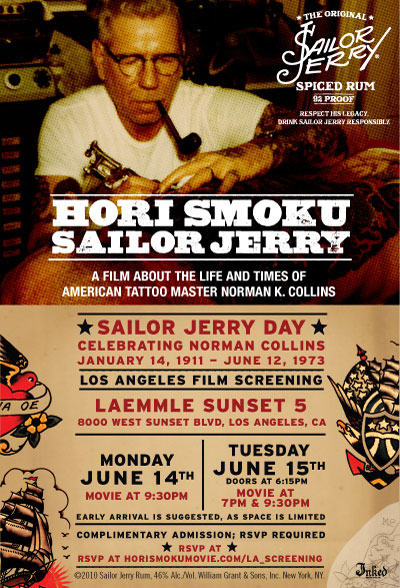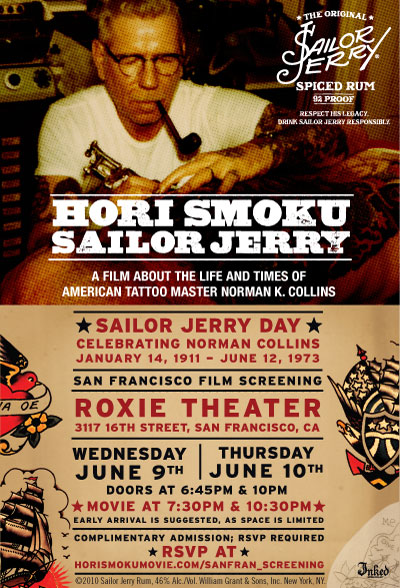 Written by Dangerrr
Thursday, 14 January 2010 06:34
Last Friday, while planning out a shoot w/ the photog, I made the off handed comment "I want to be INKED Girl of The Day!" - shoot on Saturday/Sunday was pretty fun. Fast Forward to this morning, some friends texted me while I was driving to work and sent messages on FaceBook to check the front page of Inked... and, well... Awesome!
Party Photos: Sailor Jerry Time!
Written by Dangerrr
Monday, 12 October 2009 13:11
I hosted a documentary screening (Hori Smoku Sailor Jerry) Sept 15, 2009 (if you can remember back that far) over at Roxie in the Mission. We had a little after party, too... overall it went quite well and a LOT of awesome ppl came through (over 700 RSVPs, the film was over capacity and the after party was off the CHAIN).
So basically I hooked up my Brother from Another Mother as our photographer for the event. Here we are with party pooper 4.0 shot. (all official photos from this event are by AF3, except this first one of us by Allen M):

DannyBoy - one of my sick ass tattooers - came through from Mom's. Check him out at his new chair - Let it Bleed Tattoo on Polk St (near Hemlock):
Me & D's "Mexican Soap Opera" photo:

Uptown Erin:

My new SFWeekly BFF Kevin:

More pictures of me not being drunk (thank you to all tha Cabs & DD's that took care of everyone this night, always make good choices):

Oh and this is Saturday night (10/10) - Worked Make Out Room again and then headed to Delerium w/ JessicaG & Spazzy Chris... Somedude: "Is that proper bar etiquette, painting your nails?" - Me: "I don't know... Everyone in here is too drunk to smell it. Who cares. I didn't have time at the other bar."
Written by Dangerrr
Sunday, 06 September 2009 04:42
I didn't get any good photos of my halloween costume from last year (interpretation of Sylvia Ji paintings of Katrinas) - Luckily Antonio wanted to shoot it so we recreated that mess and went for it. I'm only two photos in on the editing process so this is all you get for now. Photography by AF3 Studio.
Pleasurously Pleased to Present SUGARPILL!
Written by Dangerrr
Wednesday, 29 July 2009 04:56
My dear Shrinkle has just put up a sneak peak PR image for her new cosmetics line, Sugarpill. Shrinkle we are all so proud of you, I know you've been working on this for years it is amazing to see our friends and family's hard work make their dreams come true. Check out Shrinkle.com to keep up with her apparel line and for the launch info for Sugarpill. Props on the photo, Marburg!
March 2009: Ben + Whiskey =
Written by Dangerrr
Friday, 24 July 2009 06:43
Here's some photos from March w/ My favorite Whiskey & Photos partner in crime Ben Kasman!
Read more...
<<

Start

<

Prev

1

2 3 Next > End >>


Page 1 of 3